Schedule Your Breakthrough Session Now!
Click below to choose the appointment time that best suits you and allow 60-75 minutes for the call. I look forward to talking with you soon.
(If you have any difficulties or there are no times available, please email [email protected]).
Georgia
---
I joined Kellie's program because I was feeling stuck & needed coaching to get me to the next level. The program shows you the way to get from hobbyist to a working and selling artist. I now am closer to figuring out my style and what it is that I want to say with my art. I have rearranged my priorities to make time for my art and my goals with my art - no excuses. I've learned techniques to keep me moving forward so I'm less likely to get stuck in the future. Now I'm ready to find a venue here in my town where I can hang my art, and I will start to look into art festivals to get involved in with my art!
Tracy
---
I just wanted to share that I just finished Kellie Day's six week Transform your Art program and it was exceptional! Kellie helped me to clarify my art goals and focus so that I can achieve my dream of being a successful artist. She really listened to my needs and helped me to define my individual style and empowered me to have the confidence and the right tools to keep going! She felt more like a dear friend that I've always known than a new teacher and mentor. The VIP group is an encouraging and supportive space where I felt safe to take risks with my art. I would highly recommend this program for anyone wanting to further their art and develop you own style whether you plan to sell your art or just do it for yourself! Best gift I ever gave to myself!☺️
Jackie
---
I spent my entire adult life in a rewarding career but always felt like something was missing. I am nearing retirement and as that becomes reality I am researching second career opportunities. This time it must be more in-line with what I was meant to do. It is my belief that I am meant to create and teach. I (now) have a great love for new techniques that I never thought of using, and to use these methods when I am stuck on a piece. I learned the importance of enjoying the work; creating a playfulness that releases my truth and my style. I achieved a level of self-care that means making time for my art on a daily basis. Kellie helped me gain confidence and see where my personal style is leaning. She gave me the tools to produce and continue my pursuit of my dreams. I now  have a show booked and will move forward to establish a website and complete my social media!
Cheri
---
Before this program I hadn't painted in years. ... I felt stuck, almost frozen with fear. Fear of what if I fail, what if I'm not the artist I think I am. Now, I'm painting again without those fears. I went from caring for elderly parents to working long crazy hours after their passing trying to get back on my feet financially. Now, I'm not only painting again I'm trying new techniques without fear of failure. ...  I have a blue print for how to believe in myself as an artist. Now, I realize there are no limits. Every day is an opportunity to not only enrich my own life in some way but I can also contribute to others lives. ... I had an idea about my long range plan and Kellie's program has helped me refine my goals and get me moving in the right direction. It's never too late to start over and each day is a gift if you choose to believe in yourself.
Lee
---
I joined this program to get motivation to create art without hesitation and grow as an artist.  I had gone through a couple of difficult years … When I had time to paint I would go to my studio and not be productive. I have gone to other art business programs and I have taken other classes in watercolor to advance my skills. However I found this to be a true transformative program. It was the first time that someone led me step by step on an artistic journey. From the beginning, Kellie began to help me open up my emotions and face the road blocks that kept me from growing artistically. Years of critiques or insecurities were uncovered and I was able to move them aside. She has developed system of teaching artists how to create work without boundaries. I was able to learn how to honor my feelings and show emotion through artistic expression. I now new practices for self-care that turned me from being mildly depressed into a happier person. AND I have a show very soon …Now I believe in myself. The only thing that would make this program better is if we could have lunch together someday.
Harriet
---
When I was 7 years old, I entered a painting in a local art show. My uncle asked me if I was going to be an artist when I grew up. I responded with a confident "I AM an Artist!". Time and life took me away from that 7 year old artist. Now, almost 50 years later, we are reunited. Kellie's "Transform Your Art" program did transform my art, and did help me settle into my style. Way more than that, Kellie allowed me to find the power to finally give voice to the art inside me. I can now give myself permission to feel the rawness and vulnerability of my passions and tell visual stories through my art. I am transformed. And I'm excited to be showing my art in a few months, much to the delight of that 7 year old!
Jerri Ann
---
"I think the biggest change is my confidence... I felt bound when I started this program, I didn't know if I could feel anymore. Kellie knew how to pull it out of me, how to get to the feelings that I kept hidden. Something about the process and the steps involved brought me to a place where I can feel a change, a mind shift, a change in heart, and a changed thought process toward my creative self. I'm too old to waste anymore time with silly little thoughts I don't really believe anyway. Any day spent with paint and lost in time is a good day."
Corinne
---
You've been the best thing ever for me, it's pushed me into new frontiers.... I'm now able to go out and paint and not copy others, but explore my inner-self, a revelation of my spirit. ...  I feel like I was lost and now I'm now found.
Dee
---
This program is a Godsend. I am LOVING it, finding lots of joy, and seeing endless possibilities for my art … it's divine timing that I took this class, I am really finding myself and who I am, and my joy again. I am finding my style, and I am working on a body of work for a show!
Ann Marie
---
With Kellie's coaching, encouragement and generosity I discovered my Unique Artist Voice.  By going thru the process of this program, I now have the confidence to share my unique art style with the world.  Everything I've learned in this program is priceless and I am so grateful that I had the opportunity to experience this program!
Darla
---
"I took your ... class last summer, and loved it. In fact my painting from that class was chosen as one of the winners for the Colorado Regional Competition!"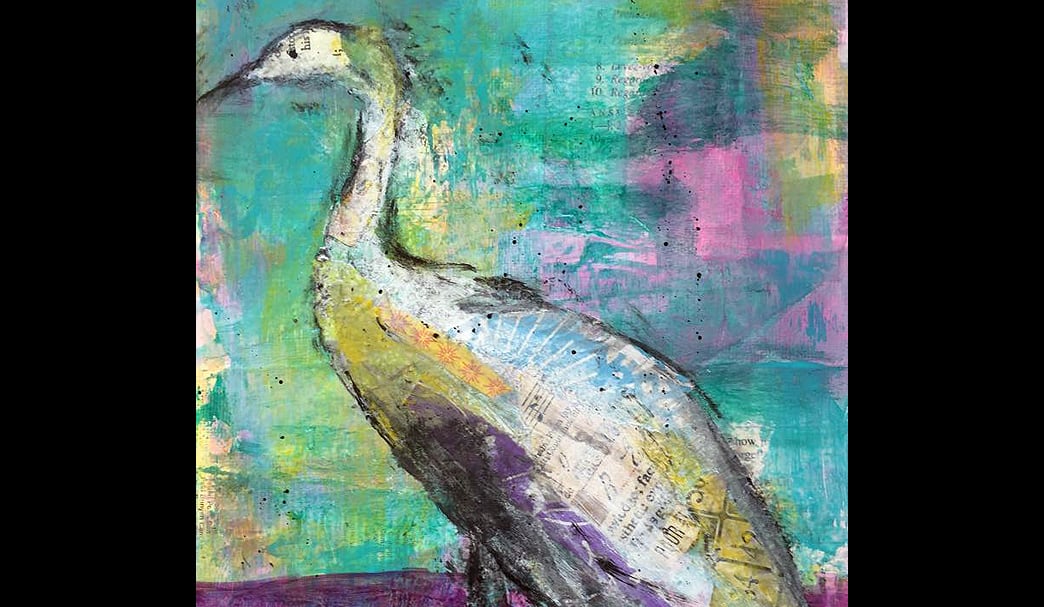 Heather
---
"Kellie Day gave me inspiration and encouragement and I am forever grateful… Not to be too sentimental but your teaching was the first time I really felt like an artist and the potential to do good work. Your encouragement started me on my path and I will never forget your generosity and kindness. Thank you." NOTE: Heather is now a full-time, professional artist!
Rae Ellen
---
"My painting, using techniques learned from you this summer, won an award at the Escalante Canyons Art Festival. Thank you. Your workshop has changed my life!!!"