I grew up in a lot of industrial towns in the midwest
---
My dad built coal-fired power plants
and my mom is an artist
---
After college I literally put my finger on a map every six months and chose a new place and a new experience.
I fought wildland fire. I surveyed for the U.S. Forest Service in Alaska. I was a wilderness ranger and worshiped Edward Abbey. Then I traveled the globe and climbed for ten years.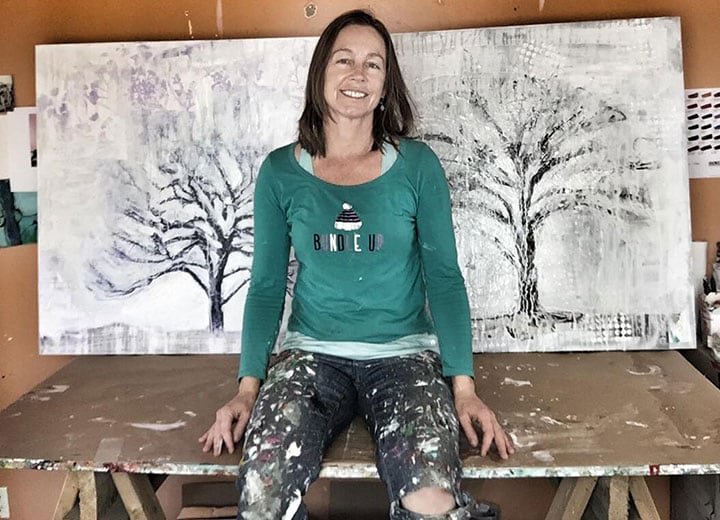 I started painting seriously when I was 40.
By seriously, I mean playfully.
My artistic medium is mixed media on canvas
I love losing myself in collage, and then sketching an image on top, and then painting over that. I take out all my energy with large, cheap paint brushes or rubber squeegees, and move acrylic paint across my many layers.
I like how my collage always ends up peeking through the painting. You never know what you might find. It could be a sufi poem, or a saucy romance novel.
I paint what moves me
Which is usually an interaction with nature.
I am really blown away by mountains and trees.
If I had a tattoo it would say, "Beauty Maker" because I'm going to spend the rest of my life making beautiful things.
I'm now a Colorado mom and artist living in a mountain town with my family and our two rescue dogs. I also run a graphic design studio.
Thanks for stopping by.